As lighting manufacturer for hotel, bar and restaurant UPPERGLASS has worked out a Ceiling Light Concept for architects, interior decorators, light planners and light designers which functions like a construction kit system. This Ceiling Light Concept offers Individual configuration for a standard price. These ceiling lamps variably to be combined are well suited especially for public areas like shops, bars, restaurants, halls and hotel lobbies, as well as for the private household.
Ceiling lamps  – directly from the manufacturer
UPPERGLASS offers various ceiling panels all combinable to each other which are equipped then with the elected glass elements. You choose length and form of the glass hangings. Thus rooms can be equipped especially with the suitable ceiling light according to the architectural circumstances concerning size and length. These demands often appear with stairwells and input areas like hotel lobbies and foyers. Therefor UPPERGLASS produces ceiling lights with outsize and the desired height – up to 10-m height , individual production as a standard without special surcharge.
One chooses individually
Ceiling panel
Glass hanging
Length
Form
Catalogue – here you find an overview about our crystal ceiling lights and glass curtains
Ceiling panel – choice
You have the choice between 17 different standard ceiling panels in different forms and dimensions – combinable with each other, because the dimensions of the single panels are tuned on each other
Lighting at the customer´s option
Material at the customer´s option
brushed high-grade steel
coated steel metal in white or black

Glass hangings – choice
You have the choice between 17 different standards of glass hangings in different forms, colours and dimensions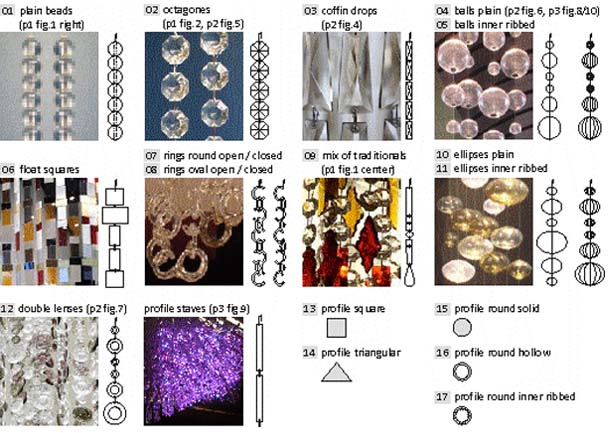 Hotel Light – Custom-made ceiling lamps for lobbies, bars and restaurants

With our high-quality Ceiling Light Concept we produce as lighting manufacturer a wide spectrum for the light planning at hotel, bar and restaurant. This Bespoke Chandelier Concept permits an individual configuration to which no limits are set.
For the public area and hospitality we also work out individual solutions according to the demands of the customer and according to the architectural demands. In this field we closely work together with the architect, interior decorator, light planner and lights designer.
Ceiling lighting of glass – light and crystal create a unique atmosphere
The reflexions of a ceiling light of glass generate a light play for feeling fine, relaxation and works. The most famous examples for these ceiling light installations of glass that everyone knows can be seen in the famous hotels in Las Vegas. The guests should feel fine during their stay, with the check in, with food in the restaurant and with the drink at the bar. The conciously elected ceiling lamp puts the ambience capably in scene, inspires and puts optical accents. Glass Ceiling Lights whether modern or traditional are an eye-catcher in the eyes of your guest. Public areas and hotel rooms receive an atmospheric and distinctive character – with the exclusive UPPERGLASS Crystal Ceiling Lights.